Before last week, I'd never been to a Worldwide Developer's Conference. Hell, I'd never even been to San Francisco. So, in June, when Apple sent me the email saying that I was getting a free ticket through the door, I was very excited. Two months later, on Saturday, August 5th, and I'm on a plane headed to San Francisco.
After getting to the hotel, I went and walked around the Bay Area. Unfortunately, it was after 9 PM there, and pretty much everything of note closed (read: the Apple Store). I headed over to Moscone West, which was obviously closed. I tried to take pictures, but as I pulled out my camera, a large guy in an Apple Security shirt gave me a very, very dirty look, so no pictures.
On Sunday, the student specific events began. There, I met up with Drew Hamlin, Tristan O'Tierney, and Josh Smith. I also got to meet Aaron Hillegass from Big Nerd Ranch, who wrote the extremely excellent book Cocoa Programming for Mac OS X. If you're at all interested in programming in Cocoa, read this book. I also met with some of the people from the Mac Business Unit at Microsoft, who thought that with my kind of experience, I'd be a good candidate to work on the Mac version of MSN Messenger.
Now, I'm going to digress a little bit here. Two RIT students currently work on the totally awesome Yahoo Messenger for Mac. At least one RIT student, and probably more, work on serious parts of Adium, one of the best IM clients on OS X which supports multiple platforms. If I were to start working on MSN Messenger for Mac, that would mean RIT would have a near monopoly on the Mac instant messaging market.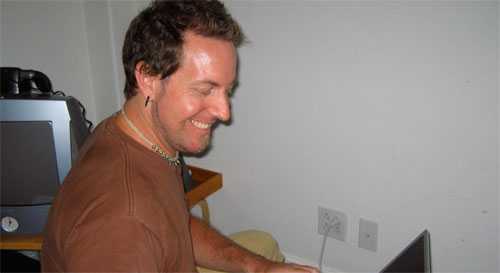 Jason Harris from Unsanity arrived Sunday night. He would be my roommate for the week. After a long day, I crashed early in lieu of going to the OpenDarwin wake. Oh, and to get to the keynote nice and early.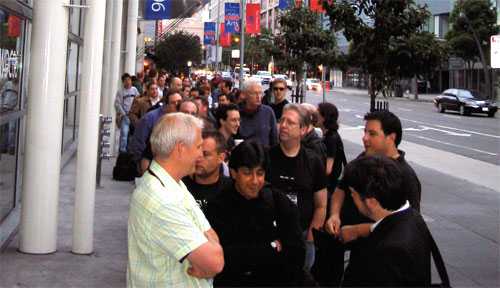 I got to the line for the keynote at 6:30 AM. Already the line was about 30 feet long, which wasn't too bad. Drew Hamlin mentioned that he was 10th in line, after getting there at 5:30. The line started heading inside at 7:00, where we stood in the first floor of the WWDC lobby until 8:00.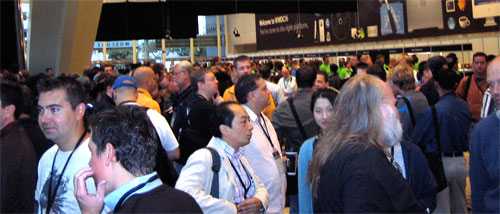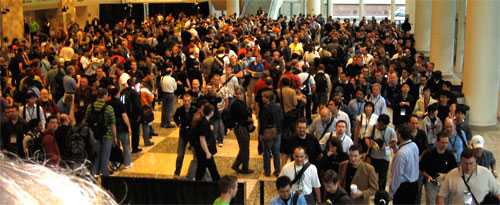 The line then moved up the escalators into the second floor, where it looped around the second floor rooms. We sat in there for another hour, where I got to meet some other people, including Rosyna Keller, whom I'd met last year, and Slava Karpenko, both of Unsanity, as well as Karl Adam, a former RIT student who had a hand in starting the Growl project and works for Yahoo. The line started heading in around 9:00 into the Presidio, where the keynote was set to begin.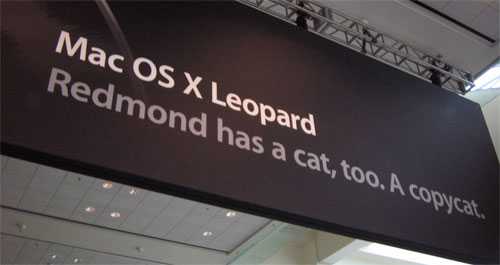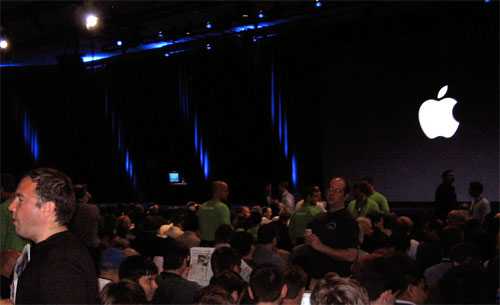 The keynote began at 10 AM, with John Hodgman, the PC from the Get a Mac ads, followed by the Keynote.
Opinion time! The features they showed in Leopard were extremely underwhelming. Time Machine is dead sexy, and I can't wait to start using it extensively for backup, but aside from that, the other features really don't seem too overwhelming. However, after the keynote, there were some sessions on the new APIs in Leopard. And despite being NDA'd from talking about them, I can say, with complete confidence, that the new APIs are crazy awesome.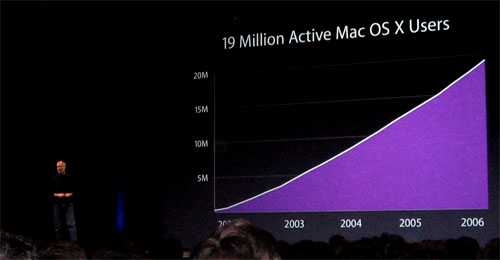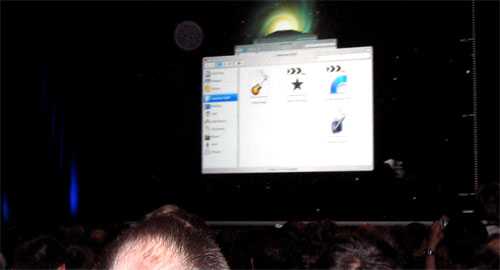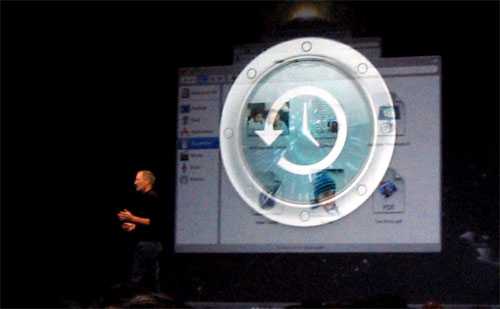 Following the Keynote, I got to meet Phill Ryu, who I'd been working with since the launch of MacThemes, Austin Sarner, creator of AppZapper, John Casasanta from Inventive, and some others. I went and had lunch with the Unsanity guys, and went back for the sessions.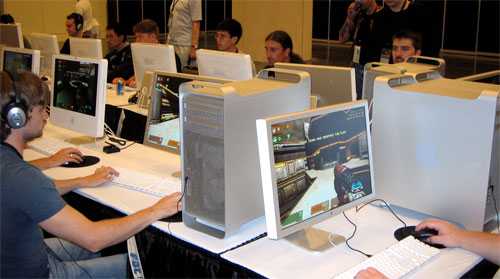 While I cannot talk about the sessions, I can talk about the three special events that were really awesome. The first was the Apple Design Awards, where John Casasanta won the Apple Design Award for Best Dashboard Widget, the gorgeous iClip lite. Those cubes are much heavier than they look. The second was the often publicized Stump the Experts event, or as it's referred to, Stump. Stump was incredibly awesome and funny, although it did seem a little unorganized. The third was the Apple Campus Bash, where I got to drink Apple's beer and have a really good time the day before the last day of the conference.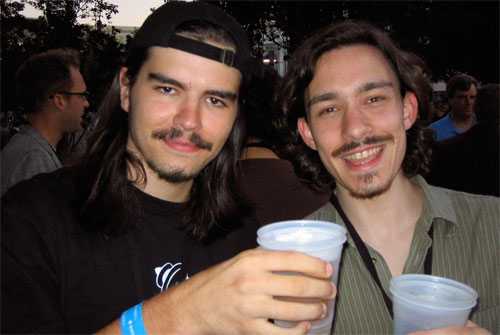 Friday, after the end of the sessions, I went and had dinner with Austin, John, and the Unsanity guys at a sushi bar. Later, I went and hung out with some people from RIT, which is where I was all of Saturday. Finally, Saturday night, I got on the plane and headed home.
It was one of the most exciting and awesome times of my life. I got to meet all kinds of awesome people, like Dave Watanabe of Acquisition, NewsFire, and Inquisitor, Brian Ball of MacZOT!, and Blake Burris from CocoaRadio. I got to learn a lot about Leopard and all of the underlying technology. But most importantly, I got some excellent advice and set up some business deals for my new app, which you'll all see a lot of very, very soon.